There is always work to be done, particularly during the autumn and winter months, when further coppicing is undertaken to gradually bring the woodland complex into peak condition as coppice woodland, for as such it will sustain a remarkable diversity of wildlife.
We always need volunteers! Particularly cheerful folk, keen to get out into the fresh air for some exercise, purposeful work and stimulating company. Work parties are enjoyable. We are still exploring the hidden dimensions of the woodlands and former plotlands, and there is fascination to be had.
Those who seek vigorous exercise will find plenty of scope here, while others wishing for physically less demanding duties can also be gainfully employed. There is that very fine feeling that in volunteering one is helping to maintain part of Basildon's wooded backdrop for generations to come.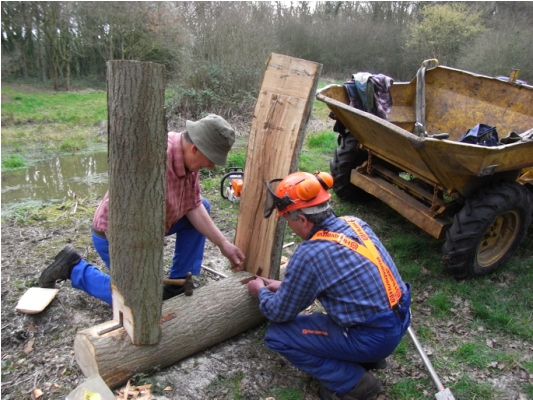 Work parties are held twice a week:
Tuesdays (usually) 9am to lunchtime.
Sundays 9am to lunchtime.
Tools are provided.
Beverages and biscuits are provided on Sundays. The less formal arrangements on Tuesdays mean that there is no refreshment available.
Parties usually meet at the green gate off Staneway, unless prior arrangement elsewhere has been made. Cars are parked inside the wood (through the green gate, which is otherwise kept locked). See Getting There for more information.